Navnet klinger godt i klokkekretser. Klokkene fra området i Sveits hvor urpoduksjon har pågått i århundrer. Bøndene jobbet med jord og buskap i sommermånedene, og satt i små verksteder om vinteren. En tradisjon og en håndverkskunst tok langsomt form, og i 1947 var Vulcain klare med en mekanisme de kalte "Cricket" – gresshoppe. Armbåndsur med alarm!
Dagens modeller Cricket benytter det samme urverket, lett oppgradert. Det benyttes kun av Vulcain; et "in-house" urverk. Det er ikke mange produsenter i verden som kan levere dette, og det gir Vulcain en spesiell posisjon i mylderet av merkevarer.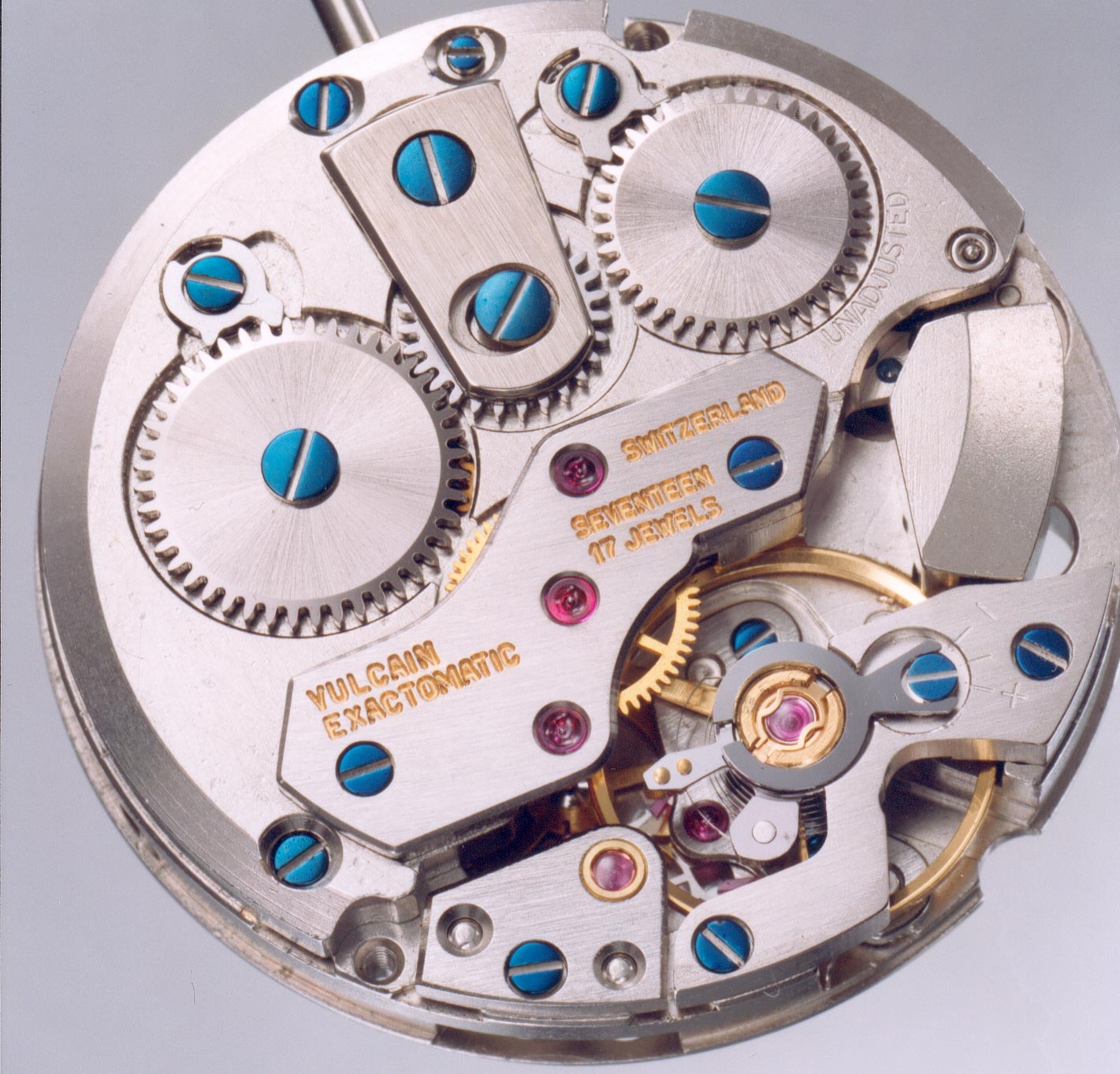 Ta en titt på urverket. Rosa rubiner fungerer som lager for akslinger, og polerte, blånede skruer, for å hindre rustdannelse. Legg merke til den nederste rubinen, omgitt av en gyllen ring. Ringen er laget av gull for å lette arbeidet ved en eventuell fremtidig service der dette lageret bør skiftes. Det er neppe sannsynlig, men om, og når det skjer, vil urmakeren være svært takknemmelig! Gullet er mykere og derfor mer medgjørlig, og platene i verket berøres ikke av arbeidet.
De to store tannhjulene øverst er montert på hver sin fjær. Disse driver henholdsvis urverket og alarmfunksjonen. De to fjærene spennes av kronen, som trekker hver sin fjær i hver sin retning.
Selve skivene i verket kalles "platine" og "klober". Disse er tradisjonelt laget av messing som er forgylt og deretter belagt med krom eller rodium. Gullet dekkes over der skriften er gravert, og det sølvblanke metallet slipper ikke til. Sånn får de bokstavene i gull, og resten sølvfarget.
Dette urverket er et klassisk sveitsisk urverk med alle tilhørende egenskaper, tro mot tradisjonene. Det er logisk, ryddig og robust. I vårt verksted får vi av og til inn klokker fra tidlig 1900-tallet med tilsvarende ryddig kvalitet. De blir renset og smurt, og så tikker de videre, klare for nye generasjoner.
Da jeg overtok bedriften i 2013 fikk jeg med en Vulcain Cricket. Den er produsert på 1960-tallet, og har samme urverk som vi selger i dag, mer enn femti år senere. Jeg blir ydmyk og stolt av å få representere Vulcain i Norge. Jeg bidrar bittelitt i denne bærekraftige virksomheten, med å presentere klokker som kan tikke og gå i flere hundre år.
ES