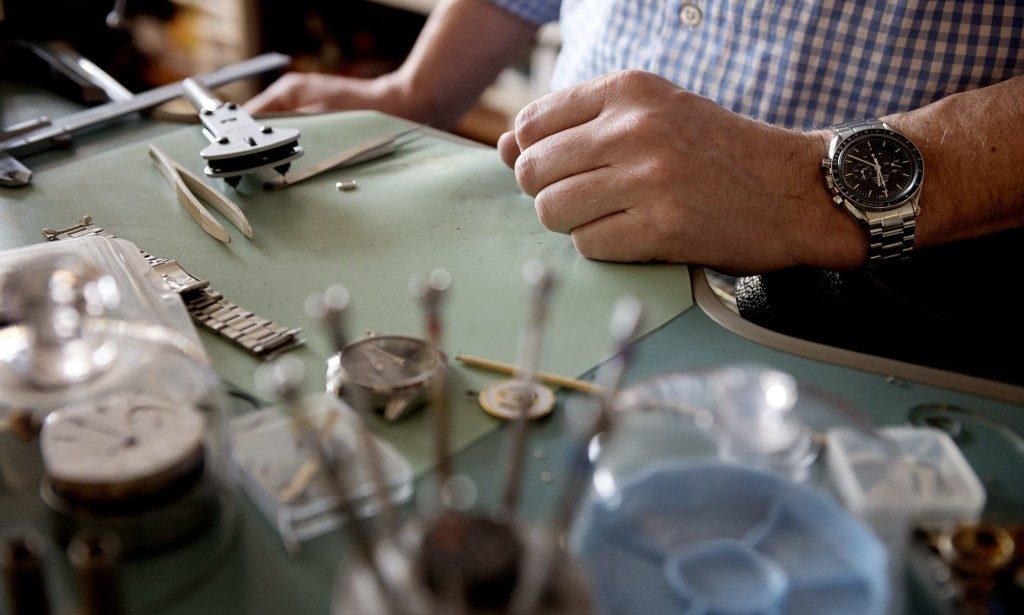 Finansavisen kikket innom for å ta pulsen på markedet for klokker som investeringsobjekt. Les Dagbladets utdrag her. I vårt lille hjørne på Bjølsen er det ikke så ofte vi snakker om inntekt og avanse på klokker, bortsett fra Rolex-klokker! Faktum er at om du brukte ca 60 000 på en splitter ny Rolex for tre år siden, får du rundt 75 000 kroner for den i dag, selv om du har båret den på armen i mellomtiden! Merker som Rolex og Omega har hatt en eventyrlig prisvekst de siste årene, og mitt inntrykk er at det er to grunner til det: Rolex må øke prisene, og kanskje minke produksjonen noe, for å beholde sin posisjon som meget attraktive og eksklusive ur. I flere år har de produsert rundt en million klokker per år, og det er kanskje ikke ønskelig med så mange nye Rolex-eiere, særlig etter at det enorme markedet i Kina fikk en markant nedgang nylig. Omega på sin side er ferdig med flere tiårs utvikling av sine nye Co-axial urverk. I dette urverket finner vi nye måter å lage "tikk og takk" på, for å si det enkelt. I tillegg har sveitsisk klokkeindustri utviklet flere former for silikon som de bruker i stedet for metall i urverket. Silikon et utviklet fra grunnstoffet og halvmetallet silisium, som gir urverket fabelaktige egenskaper. For eksempel er Omegas nye urverk så og si upåvirket av magnetisme, og silikondelene har "ingen" materialtretthet, hevdes det.
Med denne nyvinningen i urverkene vil Omega definere seg i samme sjikt som Rolex, i pris som kvalitet.
I våre to verksteder utfører vi stort sett service på eldre klokker, og disse nye modellene er sjelden innom. Likevel er vi opptatt av å forstå og kjenne disse, både for å kunne jobbe med dem en dag, og fordi det er siste nytt i den flere hundre år lange utviklingen av urverk.
Eldre klokker er spennende investering for oss! Her kreves kjennskap til spesifikke modeller og urverk!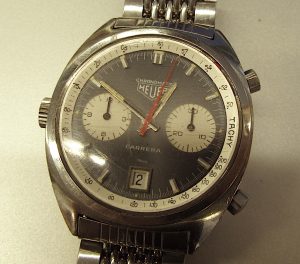 I dag kom en kunde innom med sin gamle Heuer "Carrera", fra før det het Tag Heuer. Han hadde lest artikkelen i Finansavisen, som var grunnen til at han kom nettopp nå. Dette hadde vært hans hverdagsklokke i mange, mange år før den hadde stoppet og blitt liggende i en skuff i mer enn tyve år. Nå skal den få nytt liv, og eieren hadde ikke fått med seg de gamle Heuer-klokkenes prisutvikling i det siste, og fikk "hakeslepp" da vi tippet verdien til rundt 30 000 kroner. Denne modellen kunne man lett få for 8000-10 000 kroner for bare tre-fire år siden, og er et godt eksempel på mindre verdifulle klokker som plutselig treffer en nerve i samlermiljøet. Jeg er overbevist om at denne ikke er ferdig med å stige i verdi; Urverket kalles "Caliber 12", "Chronomatic" og er et av de første automatiske urverk med kronograf. Rotoren som trekker verket ved bevegelse er nokså liten og ligger gjemt inne i urverket, i motsetning til de vanlige store rotorene som nær sagt alle andre bruker. Urverket er vellaget, for lengst utgått og et opplagt samlerobjekt.
Dette er vår hverdag. Gamle, slitte urverk kommer inn, og vi jobber med dem. Forsiktig. Av og til gjør vi gråstein til gull, og andre ganger kommer gullet inn, og vi får det til å skinne.